Extracorporeal Membrane Oxygenation Units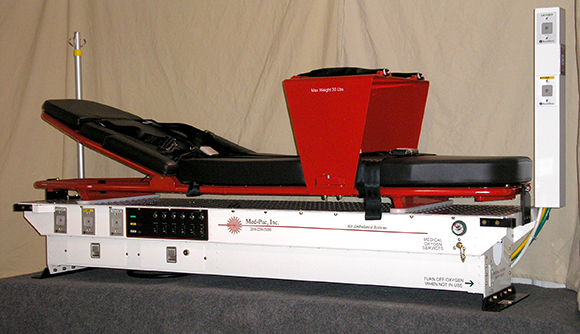 With 37 years of experience in the medical equipment manufacturing industry, our team has the knowledge and skill needed to develop equipment of the highest level of quality for your medical organization. Our team is ready to go to work for you to provide you with the equipment you need, made to your specifications.
Here are some of the services provided by our medical equipment manufacturers: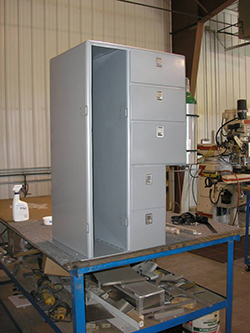 Medical equipment manufacturing: Med-Pac, Inc. is capable of manufacturing a wide variety of medical equipment, including medical cabinets, vitality shelves, IV poles, air medical transportation equipment and stretcher bridges. If our pre-made products do not fit your needs, we are also capable of providing custom medical equipment tailored to your exact specifications.
Aircraft equipment installation: For the equipment we make for medical aircraft, we are also pleased to assist in the installation of that equipment, which can be a complicated process. Our team will come to your location to ensure the installation goes smoothly and that the equipment itself will work properly long into the future as you perform your work.
ECMO transporter: ECMO stands for extracorporeal membrane oxygenation. This specific type of system is often found in air ambulance units used to transport people in extreme critical conditions to a location where they can receive organ transport. Our team provides the necessary equipment to outfit these transporters to ensure air medical teams are able to preserve the lives of the people they are transporting.
Whatever type of equipment you need, our goal is to provide it to you in an efficient and affordable manner without ever compromising on quality. For more information about our offerings of ECMO equipment or to place an order, we encourage you to reach out to us at Med-Pac, Inc. today by calling 218-238-5100.
Financing
One payment for the entire amount in certified funds or bank transfer before delivery is made.
Financing available through C&A Financial contact Maria Acord.
Financing available through Montana Commercial.
Med-Pac, Inc. NOW ACCEPTS credit cards through PayPal.